New York City Rejects Charter School Requests for Free Space
Tuesday, November 18, 2014 – 05:26 PM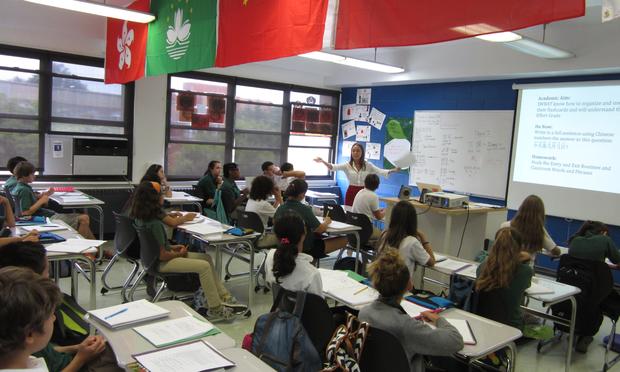 (Beth Fertig/WNYC)
The leaders of Brooklyn Prospect and theInternational Charter School of New York both said on Tuesday that they would use a new state law to seek rental assistance from the city, now that their requests to open new schools inside public school buildings were rejected.
Department of Education spokeswoman Devora Kaye declined to elaborate on the city's decision.
"We will work though the state-established process," Kaye said in a brief email. "We are committed to lifting up all our children, across every zip code, who will be the future of this city together."
The International Charter is seeking to open a new elementary school in Brooklyn next fall. Brooklyn Prospect requested space for a new school in District 13, which covers parts of downtown Brooklyn, Fort Greene and Prospect Heights.
"The New York City Department of Education was not able to accommodate our space request in District 13 as there are very few public school spaces," said Dan Rubenstein, executive director of Brooklyn Prospect. "They are confident that we will receive our facility funding that we are entitled to under the law and we are working to secure private facilities on our own."
He said he's still waiting to hear back on requests for two schools that currently rent their own space but plan to add new grades.
The city rejected an application in September from a Washington Heights charter that wanted to expand, saying there was no available space in the local public schools.
It's too soon to tell what these rejections bode for other applicants. Steven Wilson, founder and chief executive of Ascend Learning charters, said he applied for city space for one new and four growing charters in Brooklyn.
"It's not an encouraging sign but the process is a long one, it's being tested for the first time, so we have to wait and see," he said.
James Merriman, executive director of the New York City Charter School Center, said the state law gave the city five months to answer a charter's request for space. If it declines, or just doesn't reply, the charter could appeal to the state's education commissioner.
The Department of Education would not say how many charter schools have applied to the city for space. The charter center estimated about 50 charter schools, in both public and private facilities, were eligible for public space.
The city is required under the law to cover the first $40 million in rent, with the state chipping in some of the money after that. Some parent leaders recently urged the Department of Education to pay for all new and expanding charters to go into private spaces, instead of co-locating them alongside district schools.
Meanwhile, a group of charter leaders attended a rally Tuesday in Lower Manhattan to urge state lawmakers to provide them building aid. New York reimburses charter schools on a per-student calculation, at about $13,500 a year. School directors who rent their own buildings said they're forced to spend money meant for textbooks and teachers on rent.
"Having taken the first step, under Gov. Andrew Cuomo's leadership, to provide some new and expanding charter schools with facility assistance, we believe that the legislature understands this issue and will look favorably on finishing the work they began," said Merriman.